Performing calculations on your data
Calculations within Datashift work on a column by column basis, not individual values. You can create new columns by performing mathematical operations on one or more columns.
To create a new data column, when viewing your data:
click on the "New data column" on the top right to bring up the caculation dialogue.
Write out your forumla using the available operators (list below) and click "Create column".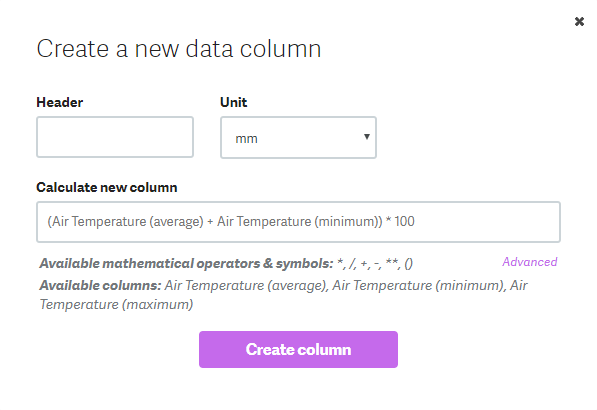 Available mathematical operations:
+
-
*
/
**
()
ABS()
ACOS()
ASIN()
ATAN2()
ATAN()
CEIL()
CEILING()
CONV()
COS()
COT()
CRC32()
DEGREES()
EXP()
FLOOR()
LN()
LOG10()
LOG2()
LOG()
MOD()
PI()
POW()
POWER()
RADIANS()
RAND()
ROUND()
SIGN()
SIN()
SQRT()
TAN()
TRUNCATE()