Quick start guide
This quick start guide will help you get up and running with Datashift so you can be more productive with your data.
1. Create a project
A project consists of a group of datafiles (raw data). Group datafiles that work together into a single project.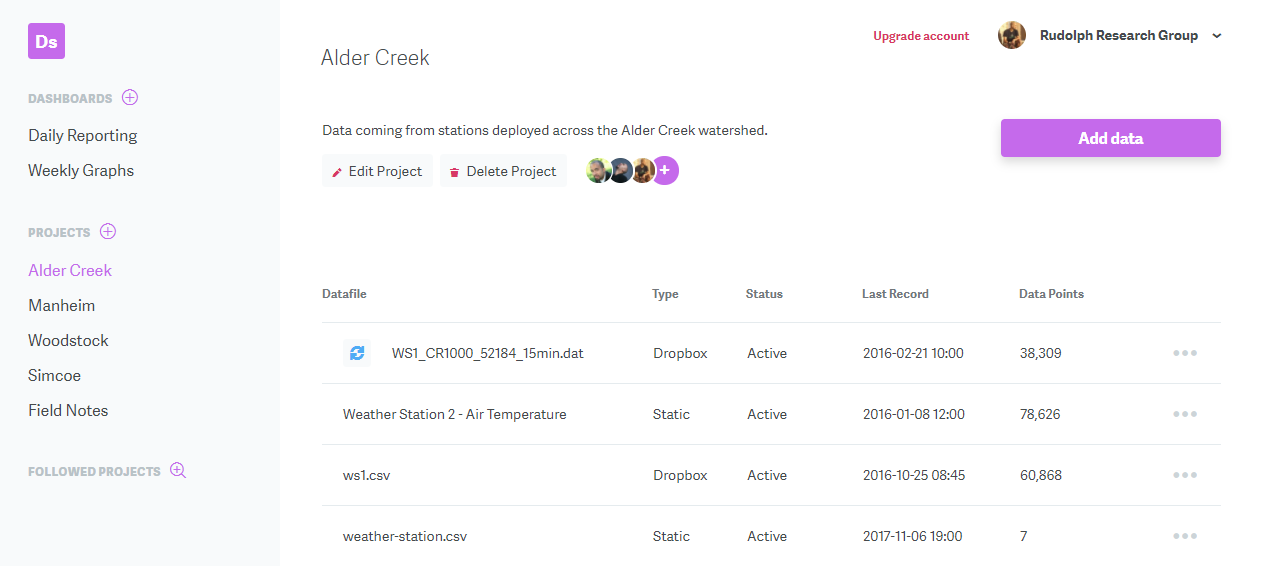 To create a project:
Click on the button beside the heading

Projects

on the left side menu.

Add a name, description and privacy settings for your project.
2. Add a datafile
When adding datafiles you need to make sure that your file follows a standard format, otherwise it will fail to load into your project.
A Datafile must consist of one table of data. You cannot add spreadsheets with multiple tables or sheets. Your data must contain at most only 1 row of headers.
Tip

Only the owner of a project (the creator) or a project admin can add datafiles to the project. The project owner can set a single member as an admin.
To add a datafile:
Within a project, click the "Add data" button on the top right corner.

Select to add a file from your computer or Dropbox.

Click "Upload" to add your datafile.
Your datafile will now be imported into Datashift and will be visible in your project. If you're datafile failed to load please review the file types and data formats that Datashift can read.
3. Create a graphic
A graphic is a visual representation of your data. Graphics are displayed on a dashboard. They can be either a chart or reading value.
To create a graphic:
On your dashboard, click on either the "New graphic" or "New reading" button on the top right corner.

Use the design interface to build your graphic.
4. Add team members to your projects and to Datashift
Collaborate with your organization by adding people to Datashift. You can add people to Datashift two different ways.
Add new member to Datashift from your account settings:
Click on your avatar icon on the top right corner of your screen.

From the dropdown menu, click on "Settings".

On your account page click on "Members" to bring up the form where you can add members by adding their email address and clicking "Invite".
Add new member directly to a project:
On a project page, click the purple plus icon to the right of the edit and delete project buttons.

Select "Add a new member" from the dropdown located below the

Add people to this project

heading.

Enter the email address of the person you wish to invite.

Select a role for this person.

Click "Add" to add this person to your project.
Tip

When inviting people to your Datashift account they still need to be added to any project you want them to have access to. Each member can have different roles and access levels to any projects within Datashift.
5. Data sharing & privacy
When working within a project there are three levels of privacy you can have with your data:
Total privacy
Set your project to private where only you can see your data.
Share data only within your team
Invite people to join your projects and asign them a level of data access you are comfortable with.
Share your data with the public
Make data available from your published research, public initiatives or even from your own back yard sensors. Any Datashift user will be able to access your public projects.