Sharing projects with other people
Datashift allows you to control the flow of data to each of your team members through project sharing and member roles.
Adding a member to your project
To add a person to your project make sure you are on the project page of the project you want to invite someone to join.
Bring up the project members dialogue box by clicking on the plus () button located beside the project edit and delete buttons.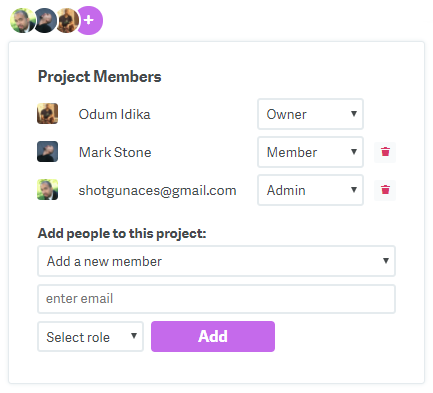 Important

You can either add a new member to your project from someone who is already a team member in Datashift or you can invite someone new.
Select the dataspace member you wish to add to your project or select "Add a new member" from the dropdown list where is says

Add people to this project

.
If you selected to Add a new member, enter their email address.
Click "Add" to invite the new member.
When inviting new members to Datashift, they will receive a welcome email inviting them to join Datashift and your project.
Member roles
There are four different roles for members of a project which will help you maintain the quality and visibility of your data within your team.
Owner
This is the user that created the project.
Admin
There can only be one admin per project. An admin has full control with the project, they can control members and write in new data.
Data editor
A data editor can perform calculations on the data but cannot add or remove any raw data.
Member
A member simply has read only access. They can view the data and create graphics on their dashboard with that data.